What is an Annual Summary Report (ASR)?
It is a comprehensive assessment of all known safety information for a marketed drug or natural health product. The ASR is prepared by the market authorization holder (MAH) to provide an update on the worldwide safety profile at defined intervals post-authorization.
Which type of Products require an Annual Summary Report (ASR)?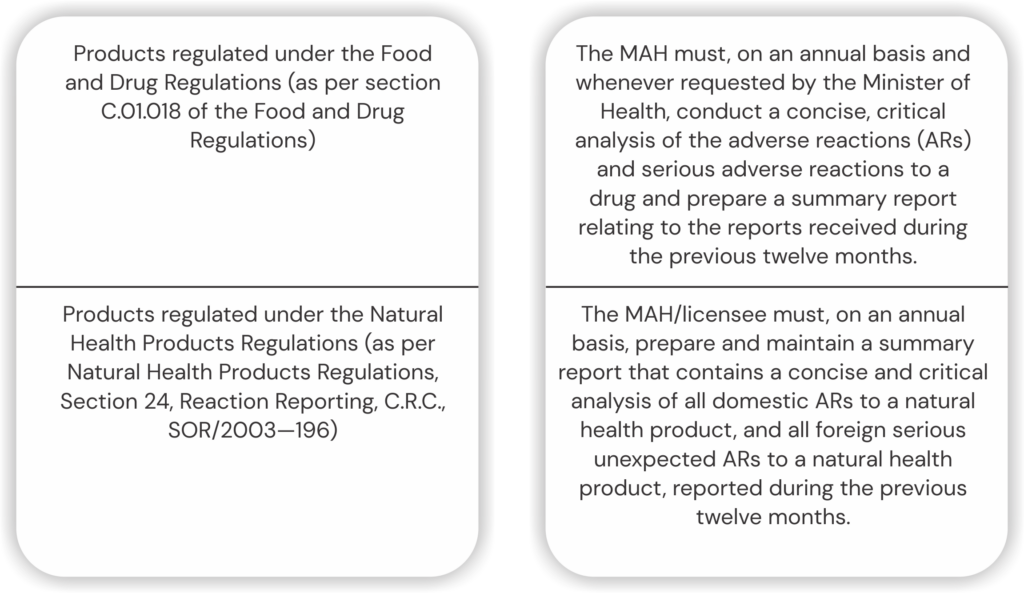 When does the requirement to prepare ASR begin for the MAH/Licensee?
The requirement to prepare ASRs begins on the date that the MAH first sells the product in Canada.
The term Sells includes offer for sale, expose for sale, have in possession for sale and distribute, whether or not the distribution is made for consideration. (Ref: Sec. 2, Food and Drugs Act)
The MAH should specify the selected 12-month period for the ASR.
Health Canada prefers that the ASRs be prepared with harmonized Data Lock Points (DLPs) based on the International Birth Date (IBD) of the active substance. The MAH should refer to the EU reference dates (EURD) lists if they are unable to identify the IBD.
The date of the first licensing in Canada may be used for natural health products.
Is there a requirement to submit prepared ASR to Health Canada?
The ASRs are to be submitted to Health Canada under certain circumstances:
Upon request by Health Canada;
To fulfill a commitment.
When preparing the report, the MAH must determine whether or not there has been a significant change in the benefit—risk profile of the drug. The current interpretation of benefit—risk profile is a reflection of the overall balance of the product's potential benefits with its identified risks as revealed through safety and efficacy evidence, and through consideration of how that evidence contextualizes with real world conditions of use on the market. If the MAH concludes that there has been a significant change in the benefit—risk profile, they must notify the Minister without delay, in writing, unless this has already been done. The primary focus should be on the clinical significance of such a change.
Health Canada expects that a copy of the ASR be provided with the notification letter if the report shows that there has been a significant change to the benefit-risk profile.
If Health Canada determines that an examination of the safety and/or effectiveness of a drug are warranted, a request may be made to the MAH under C.01.018(5) and (6) of the Food and Drug Regulations to submit an ASR, and/or the case reports (Council for International Organizations of Medical Sciences [CIOMS] preferred) of all adverse reactions that are known to the MAH.
All ASRs must be maintained by the MAH on site or be easily accessible and, when requested, be submitted to Health Canada within 30 calendar days unless otherwise specified.
Health Canada requests that relevant unique Canadian identifiers (DIN, DIN-HM, NPN) be included in ASR reports, to make it easier to link the report to other information about the marketed product.
For the NHPs, If the Minister has reasonable grounds to believe that the natural health product may no longer be safe when used under the recommended conditions of use, the Minister may request any summary reports, interim summary reports and all adverse reactions for which a case report is required, to be submitted to Health Canada within 30 days after the day on which the request is received by the MAH/licensee.
Does Health Canada expect the MAH to discuss quality/ Good Manufacturing Practices (GMP) problems in the ASR?
ASRs are not expected to discuss quality/ Good Manufacturing Practices (GMP) problems unless they result in adverse clinical outcomes. GMP related safety issues should be distinguished from ingredient related safety issues.
What are the Acceptable Annual Summary Report Formats?
Depending on the type of the product and the preference of the MAH, several formats are considered to be acceptable for the preparation of ASRs.
The information included in the ASR will vary depending on the adverse reaction data known to the MAH. If a section cannot be completed, this should be noted and explained.
Periodic Benefit-Risk Evaluation Report (PBRER) Format (ICH E2C(R2))
Periodic Safety Update Report (PSUR) Format (ICH E2C(R1))
Non-ICH Annual Summary Report Format
What should be the format of the Annual Summary Report for the NHPs?
Although the ICH format is preferred for the preparation of ASRs, a simpler format is also acceptable for annual summary reports for NHPs.
Following sections are expected by Health Canada in non-ICH format ASRs prepared for NHPs:
Introduction
Summary of changes (if any) to what is known about the product's safety, based on information collected during the reporting period.
Core reference safety information, preferably Company Core Safety Information (CCSI)/ Company Core Data Sheet (CCDS), if available. If these are not available, other documentation that reflects the core safety knowledge of Canadian licensed products should be included such as the product monograph, or approved labelling information/terms of market authorization. The type of document should be identified.
Information about significant domestic or foreign regulatory actions (if any) bearing on safety during the reporting period
Patient exposure (see ICH E2C(R2) for details), including Canadian exposure. Basic information would include sales information.
A critical analysis covering:

All known adverse reactions occurring inside Canada
Serious unexpected adverse reactions inside or outside Canada during the previous 12 months at a dose used or tested for the diagnosis, treatment or prevention of a disease or for modifying organic functions in humans.

A conclusion regarding the product's real-world safety
Should MedDRA be used in the ASRs?
MAHs are encouraged to use Medical Dictionary for Regulatory Activities (MedDRA) terminology to analyse and present data.
How many days after the Data Lock Point (DLP) should the ASR be prepared?
The ASR should be prepared 70 days from the data lock point. In any case, the ASR must accurately reflect the actual collection and analysis performed and the information used.
Is there a requirement for Canadian Specific Sections in the ASR? How should they be presented in the report?
Regional differences may exist in the aggregate reports, even though standardized periodic summary reports (i.e., PBRERs and PSURs) are used globally.
The MAH should consider the need for a Canadian—specific section when preparing an ASR for submission to Health Canada. The following is Canadian specific data:
Adverse drug reactions occurring in Canada
Information such as the epidemiology of the medical condition(s) or risk factors that reflect the authorized indication(s) in Canada in cases where it varies from the authorized indication(s) in other jurisdictions
References to the latest available version of the Terms of Market Authorization (e.g., Canadian Product Monograph (CPM); information present in the Licensed Natural Health Product Database; finished product labelling)
Information related to Canadian patient exposure
Post-marketing experience in the Canadian context
A discussion of pharmacovigilance activities within the Canadian context
Verification of AR records against Health Canada's Canada Vigilance Database; and
Information that is applicable to the Canadian context, in relation to risk minimization strategies and evaluation of effectiveness of risk minimization activities.
Canadian-specific section(s) can be prepared in the form of a Canadian-specific summary report or as an appendix or annex to an already prepared summary report.
How to submit the Annual summary reports?
The Annual Summary Reports should be provided to Health Canada in electronic-only
format. The submissions should be provided in either English or French.
Health Canada strongly recommends that electronic documents be provided in electronic common technical document (eCTD) format. ASRs provided in eCTD format should be prepared using applicable sections of the Guidance Document: Preparation of Drug Regulatory Activities in Electronic Common Technical Document (eCTD) Format published on the Health Canada Web site.
Non-eCTD Format Requirements
Alternatively, Health Canada will also accept electronic documents in "non-eCTD electronic—only" format. ASRs provided in "non—eCTD electronic-only" format should be prepared
using applicable sections of the Guidance Document: Preparation of Regulatory Activities in the "Non-eCTD Electronic-Only " Format published on the Health Canada Web site.
References:
Health Canada: Preparing and Submitting Summary Reports for Marketed Drugs and Natural Health Products. Guidance Document for Industry. Effective date: May 23, 2018
Health Canada: Food and Drug Regulations (C.R.C., c. 870)
Health Canada: Good Pharmacovigilance Practices (GVP) Guidelines (GUI-0102) / August 11, 2013
Image from (pixabay.com)
Authors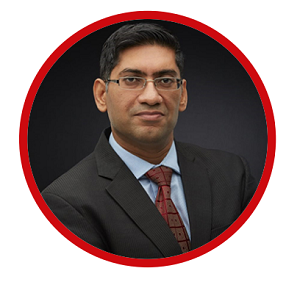 Dr. Sumit Verma – Operations, Co-Founder
Dr. Sumit Verma is a medical graduate with specialization in anesthesiology and has more than 15 years of experience in the pharmaceutical industry, clinical medicine, clinical research, and pharmacovigilance. He has built teams that have consistently delivered and exceeded customer expectations across pharmacovigilance domains such as case processing, signal management, risk management, aggregate reports, and clinical safety. He has co-authored two books – one on pharmacovigilance and another on pharmacology.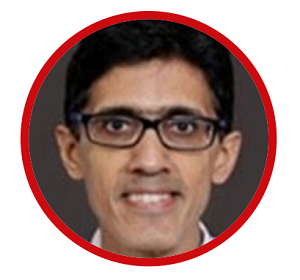 Dr. Yogesh Gulati MBBS, MD Senior Pharmacovigilance Physician
Dr. Yogesh Gulati is a medical graduate with specialization in pharmacology and has more than 13 years of experience in the pharmaceutical industry, clinical research, and various phases of clinical trials. He has led various pharmacovigilance teams comprising of physicians and clinical research coordinators in conducting pharmacovigilance activities for various global clients. He has been involved in setup of a standalone pharmacovigilance unit and gradual scale up of operations while ensuring system and regulatory compliance. He has led teams that have delivered quality documents across various pharmacovigilance domains including case processing, signal management, risk management, and aggregate reports. He has co-authored books on pharmacovigilance, pharmacology and nursing drug guide.
Disclaimer:
Any content presented in the document should be considered for general informational purposes and should not be considered as specific to the requirements of any particular organisation or for any specific purpose. Soterius does not make any representations or warranties about the completeness, reliability, appropriateness, relevance or accuracy of the content in the document. Please refer to the relevant regulations/guidance for information.